Make your Christmas Day magical at the Railway Hotel

Join us for a festive journey where timeless elegance meets the spirit of the season. Reserve your seat and indulge in the holiday traditions that await you!
Our Christmas Day Lunch will be served between 12:30 pm and 3:00 pm.
There are gluten-free, dairy-free, vegetarian and vegan options available. Please inform staff when making the booking of your wishes.
Parsnip and Apple Velouté
with Crusty Homemade Bread
Seared Scallops with Black Pudding
Celeriac Puree, Apple Remoulade and a Cider Syrup
New Forest Game and Prune Terrine
Spiced Plum Chutney Pickles and Brioche
Caramelised Pear and Blue Cheese Tart
Candied Walnuts and Celery Salad
Heritage Beetroot, Goats Cheese Mousse
Hazelnut Crumble & Endive
Roast Turkey & Chestnut Stuffing
Red Wine Gravy
Fillet of Hake Roasted, Salsify Buttered
Hispi Cabbage Champagne and Butter Sauce
Slow Braised Feather Blade of Beef
with Pommel Puree and a Bourguignon Sauce
Crispy Filo Basket
filled With Caramelised Red Onion, Spinach, Wild Mushrooms & Ricotta, Tomato & Basil Coulis, Micro Herb Salad
28-Days Aged Rib Eye Steak
Thyme Rosti Potato, Wilted Baby Spinach, Herb Grilled Portobello Mushroom Madeira & Truffle Sauce (Supplement £10.95)
All the above come with sprouts, roast parsnips, carrots, and spiced red cabbage.
Christmas Pudding
Brandy Sauce
Warm Poached Pears
with Stem Ginger, Honey Gelato And Ginger Bread Crumb
Chocolate and Salted Caramel Delice
Steeped Cherries In Port, Honeycomb
Baileys Cheesecake
Espresso Jelly, Chocolate Sauce, Fresh Berries
Chef's Cheese Selection
celery, grapes, quince, nuts
(Supplement 3 cheeses £4.95 – 5 cheeses £6.95)
Freshly Brewed Coffee
with Petit Fours
All our food is prepared onsite in a kitchen where allergens are present. We work very hard to make our kitchen allergen friendly however if you have an allergy, please tell the waiting staff who will be able to assist and recommend dishes for you. The Allergen folder is available upon request.
Children (Aged 3-12 years)
£42.50 per person
The perfect venue for your festive season
Looking for a special place to make this year's Christmas party the best yet? The Pullman Restaurant at The Railway Hotel is perfect for festive family fun, catch-ups with friends or the Christmas office party.  Our experienced chefs use the finest seasonal, local ingredients to serve you the best festive fayre and our friendly team will be on hand to offer you a warm winter welcome.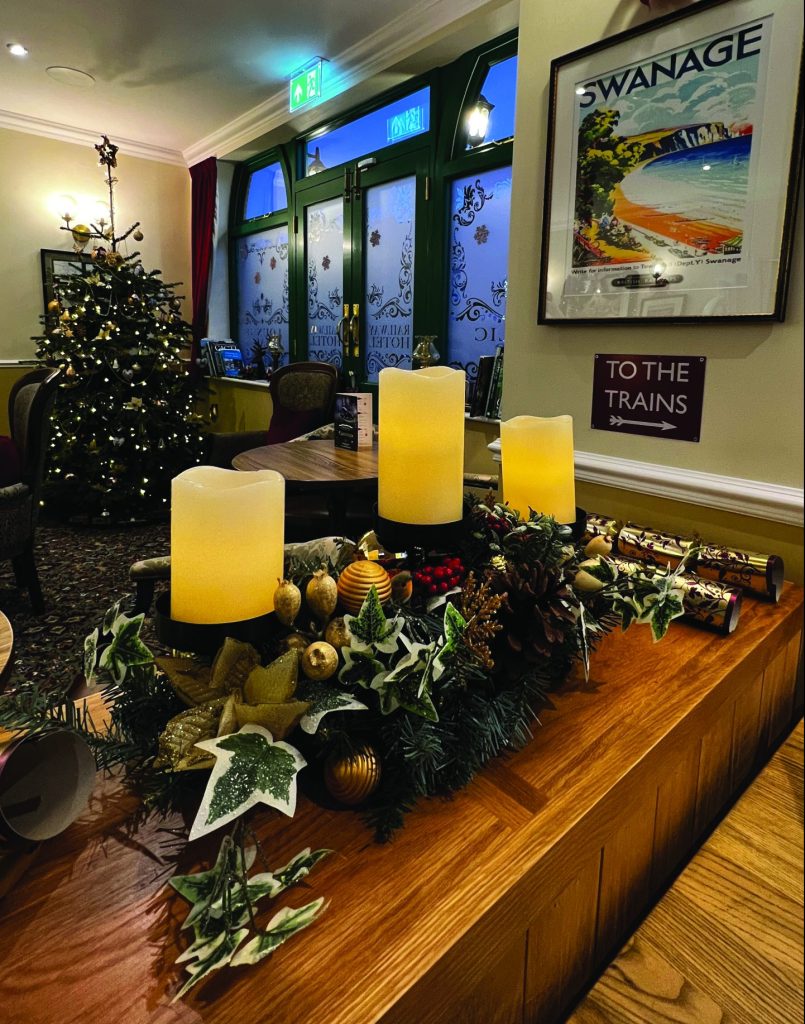 PULLMAN DINING CAR
Breakfast 8 am – 10 am
Lunch 12 pm – 2:30 pm
Dinner 6 pm – 9:30 pm
Sunday Lunch 12 pm – 4 pm
BAR
11 am – 11 pm

HOTEL
Check-in 4 pm, Check-out 10 am
CHRISTMAS OPENING
Sun 24th Christmas Eve
normal hours
Mon 25th Christmas Day
12 pm – 4 pm, closed evening
Tue 26th Boxing Day
12 pm – 4 pm, closed evening
Wed 27th – Sun 31st
normal hours
Mon 1st Jan New Year's Day
normal hours
Tue 2nd Jan
12 pm – 4 pm, closed evening
Wed 3rd Jan
Back to normal service